Proposed Athenian 2021–22 Winter After-School Computer Science Class
Fun with Electronics and Coding, with Dave Briccetti
In this class, for beginning and experienced programmers and "digital makers", you'll create several fun projects combining coding with wiring up buttons, sensors and motors, while strengthening your programming skills, and being exposed to the big ideas of computer science.
Hardware
We'll work with several different tiny computers and microcontrollers.
The Raspberry Pi is a full-featured, but small, computer.
The Circuit Playground Express is less powerful than the Raspberry Pi, but includes many sensors and lights, and consumes less power.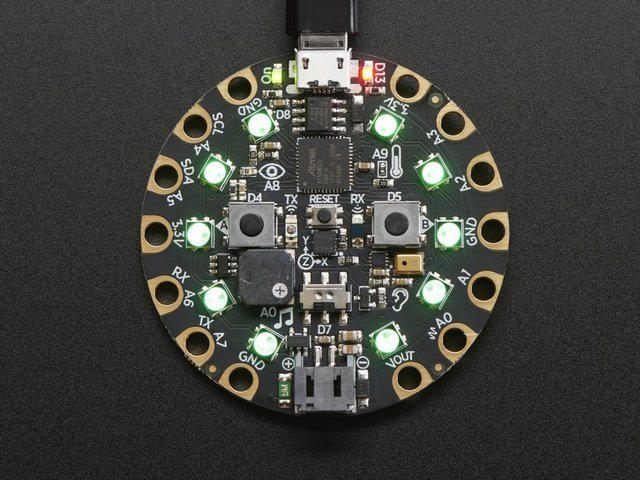 The Arduino is a very popular microcontroller, with a large community creating software for it.
Software
Python is one of the most popular programming languages, and it's suitable for beginning programmers as well as professionals.
JavaScript/TypeScript is another of the most popular programming languages.
C++ is used for programming Arduinos.
MakeCode for Circuit Playground Express makes it easy to program the CPX using blocks.
Tinkercad Circuits lets you try out your electronics circuits in a simulator before assembling them with real components.
Projects
The best projects might be the ones students come up with themselves, but here are some ideas:
Multiplayer Reaction/Memory Lights Game
Inspired by Simon game
Features:
Raspberry Pi tiny computer
Python and TypeScript (a better JavaScript) programming languages
making a web application (webapp) with the Flask framework
Hypertext Markup Language (HTML) and Cascading Style Sheets (CSS)
electronics fundamentals
connecting components on a breadboard
reading button presses
lighting multicolor LEDs
Smart Thermostat
Make a smart thermostat to control your home temperature.
Dave's YouTube Electronics Playlist should provide more ideas.
The Teacher
Dave Briccetti is a highly skilled programmer and experienced computer science teacher. Watch him teach on his YouTube channel.
Have a look at Dave's Fall, 2021, class, Programming an Adventure Game… to get a feel for what Dave's classes are like.
Bring to Class
Bring your own laptop computer running macOS, Windows, or Linux, or use one provided by the school. The school will provide hardware to use during the class, and you're welcome to bring your own hardware.